Simply put, customer onboarding is the process of welcoming new customers, getting them acquainted with your products and services and addressing their questions and concerns.
Great onboarding matters because it helps you to set the tone for the rest of your relationship with that customer. Remember too that happy customers become fans and bring their friends with them and ultimately new customers for you.
And, whilst great onboarding is crucial to a positive customer experience, it will also affect your ability to communicate effectively with customers and make the relationship profitable. Whilst free trials represent a great opportunity to attract new users converting these users into long term, paid customers can be a challenge. According to Databox nearly half of organisations, they asked reported that less than 10% of free trial users converted to paid activation. Ensuring customer data is accurate is the only way to follow up with them and bring them back into the process. This makes data capture such as email and address verification a critical element of successful customer onboarding.
The great news is that there are many tips, strategies and ideas which can be put in place to build great onboarding strategies. Here are 7 of our favourites:
1. Great email sequences
After ensuring that any email correspondence is heading to a valid address with an email validation tool, make sure you begin your new customer correspondence with a positive and congratulatory email.
Keep up the emails as a tool for keeping customers informed, stay one step ahead of their queries and needs. Take them through set up, usage guidance and into business as usual through a tailored contact strategy.
2. Don't ask for everything at once
Asking for onerous amounts of information during onboarding is a sure-fire way to switch off new customers. Genesys found that 40 percent of new banking customers will abandon account set up if the process asks for more information than a customer is prepared to disclose. 
Keeping requests for information simple will move your new customer through the onboarding process quickly and keep them engaged.
Uber's solution to a potential overload of information request was to ask users to enter their mobile number so they could check if their account already existed. This resulted in Uber dramatically improving mid- and long-term retention.
3. Maximise referrals
Utilising referral marketing can help you bring onboard connections from your current customers. By leveraging positive word of mouth your new customers will arrive organically and be guided through onboarding by their introducer. When a new customer chooses to join up as a result of positive word of mouth, they are far more likely to persist through onboarding and set up as they are motivated by the product or service benefits.
4. Manage expectations
Before a customer begins the onboarding journey with you, they should know what to expect. From the beginning of your interactions with a new customer, it's best to be clear about any qualifying factors or requirements.
A great example of managing expectations in a straightforward way can be seen in the Etsy shop set up. The simple mechanic of a progress meter shows the new customer what to expect to be doing throughout the onboarding process ad how far through the journey they are.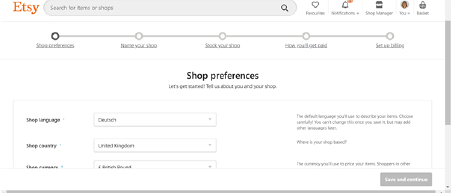 5. Know your audience and personalise
Every customer you engage with will have a unique set of needs. The more you can tailor your onboarding to meet these needs, the greater the success rate you'll achieve.
The best place to start is to create user personas to understand the problems customers are trying to solve, the issues they might encounter and more about how your product or service will fit in their lives. This way you can create a meaningful onboarding experience for each customer.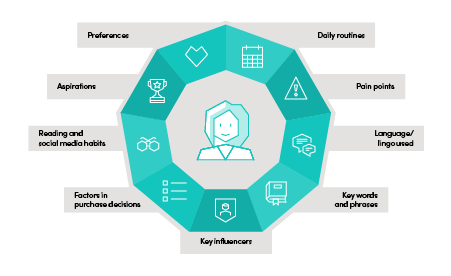 6. Stay with them
It can be all too simple to offer exciting and congratulatory communications when you first welcome a customer but what comes next matters just as much, and possibly more!
As we said earlier, email communications are usually the key to success but don't forget to, even once your product becomes indispensable, maintain your regular contact. This will make sure your customers make the most of your product or service and don't miss out on any features that might influence their likelihood to remain as your customer.
7. Support set up
The most important part of the onboarding experience is teaching your customers how to use and get value from your product. As with most things in life, this learning is best done by letting them get hands-on.
Tools like interactive walkthroughs can show your new customer the key product features one by one. Annotate any walkthrough with hints and tips to make sure they get the best from each step.
Duolingo, for example, provide an animated walk-through of their tool. They also provide a step-by-step onboarding process to guide new users through the setup.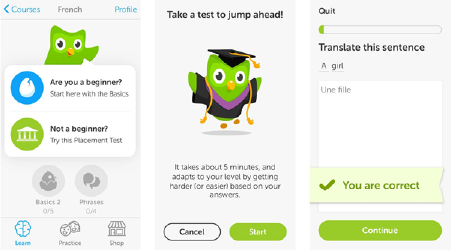 How to make it happen
With a combination of these top onboarding strategies in your arsenal, you're sure to impress your new customers.
Remember too, that when you think differently and create outside the box onboarding mechanics, you can surprise and delight your customers from the get-go.
Great onboarding helps customers make the most of your products and services, make their lives easier and builds a relationship which will see them remain a customer, become a fan and bring you further business.
Investing time in your onboarding journey could be the key difference between ensuring your company is successful or letting customers find options from competitors.