At A Glance
With geolocation, companies can build site-to-store shipping capabilities, improve the efficiency of shipping routes, communicate delivery estimates with customers, and create custom location-based apps.
If you've ever used one-tap technology that identifies your location, that app is likely using geolocation. Social media companies like Facebook and Yelp rely on geocoding software to identify your location when you upload a photo, leave a review for a business, or ask for recommendations. Geocodes are also foundational for ride-sharing and logistics apps like Uber, Instacart, and DoorDash that facilitate transportation and deliveries.
Geolocation Overview
Why It Matters
Geocodes make it possible to pinpoint a location on a map. With so many people relying on smartphones, geolocation tech helps people get to their destination safely, efficiently, and without hassle. In the complex world of logistics, geolocation makes it possible to:
Geocoding software is often at the foundation of business practices that allow organizations to scale sustainably, particularly during a time of global crisis.
Geolocation-enabled capabilities include:
Store Locators: As a result of the COVID-19 pandemic, curbside pickup has grown in its importance for the protection of public health. In addition, people are seeking expedient ways to inspect items before committing to make a purchase. To make life easier for customers, retailers can use store finder on their websites to allow shoppers to discover where their nearest store is, simply by adding their postcode or town.
Fraud Prevention: Credit card companies and financial institutions use geocoding to analyze where people use their credit and debit cards. This tracking and analysis capability can help predict consumers from fraud or theft.
Risk Assessment: Geocoding, along with property intelligence software, can help assess the vulnerability of a geographic area. Detectable threats include but are not limited to natural disasters, pandemic hotspots, and traffic disruption. Real-time data can help with situational response planning. Trend data can help insurance companies and credit underwriters develop insurance quotes.
Data Visualization: Make address data more usable and human friendly for a range of audiences that depend on this information. Visualize data by identifying store networks, warehouse locations, or events with target precision.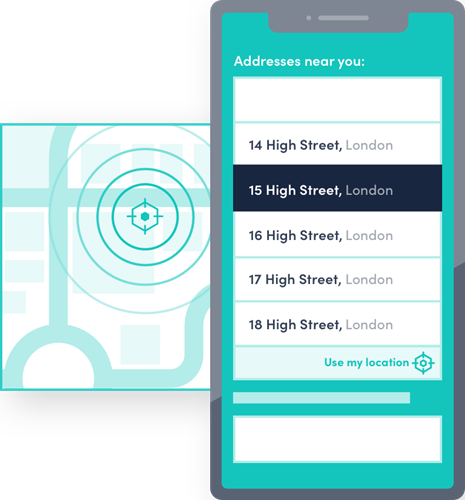 How It Works
Geocoding software appends digital latitude and longitude data to addresses by retrieving this information from an official dataset that includes verified addresses from around the world.

On a mobile device, geocoding software will use a phone's Global Positioning System (GPS) signal in order to identify a precise location. As a result, consumers do not need to enter their address information in order to seek services. 
GPS is a global navigation system that is made up of a minimum of 24 satellites, which orbit the Earth. Constant streams of data are transmitted to Earth, and this data is received by smartphones and other devices. The position of a device from satellites is measured by trilateration, and allows access to global local information, such as road directions.  
Geolocation makes it possible to identify someone's location with a single tap.​